As we all know Derivatives act as a good hedging tool against price volatility, would you ever take a chance to miss the opportunity just because you've been engaged in switching tabs? No worries, 5paisa has now got you covered!
Introducing you "FnO 360" at 5paisa, a separate trading terminal exclusively targeted to derivatives traders. This will help you discover new avenues for investing in F&O trading on our platform, along with functional improvements that will enhance your trading experience.

What is FnO 360?
FnO 360 is one of the live trading terminals provided by 5paisa. With just one click, you will get a whole new window that is specifically focused on derivatives trading. The platform has been absolutely evolved in-house and it's a completely similar infrastructure as the existing platform.

Features for the Ultimate Traders' Delight

Below are a few different featured sections where you can do a deep analysis of the current market statistics by using the-

1. Open interest (OI):
Open Interest is important for both stock futures traders as well as options traders. This section gives you a fair idea of the statistically unique parameter in the derivatives segment. OI has been integrated with the form of graphs, using which a user can analyze the market movement based on the investor's interest.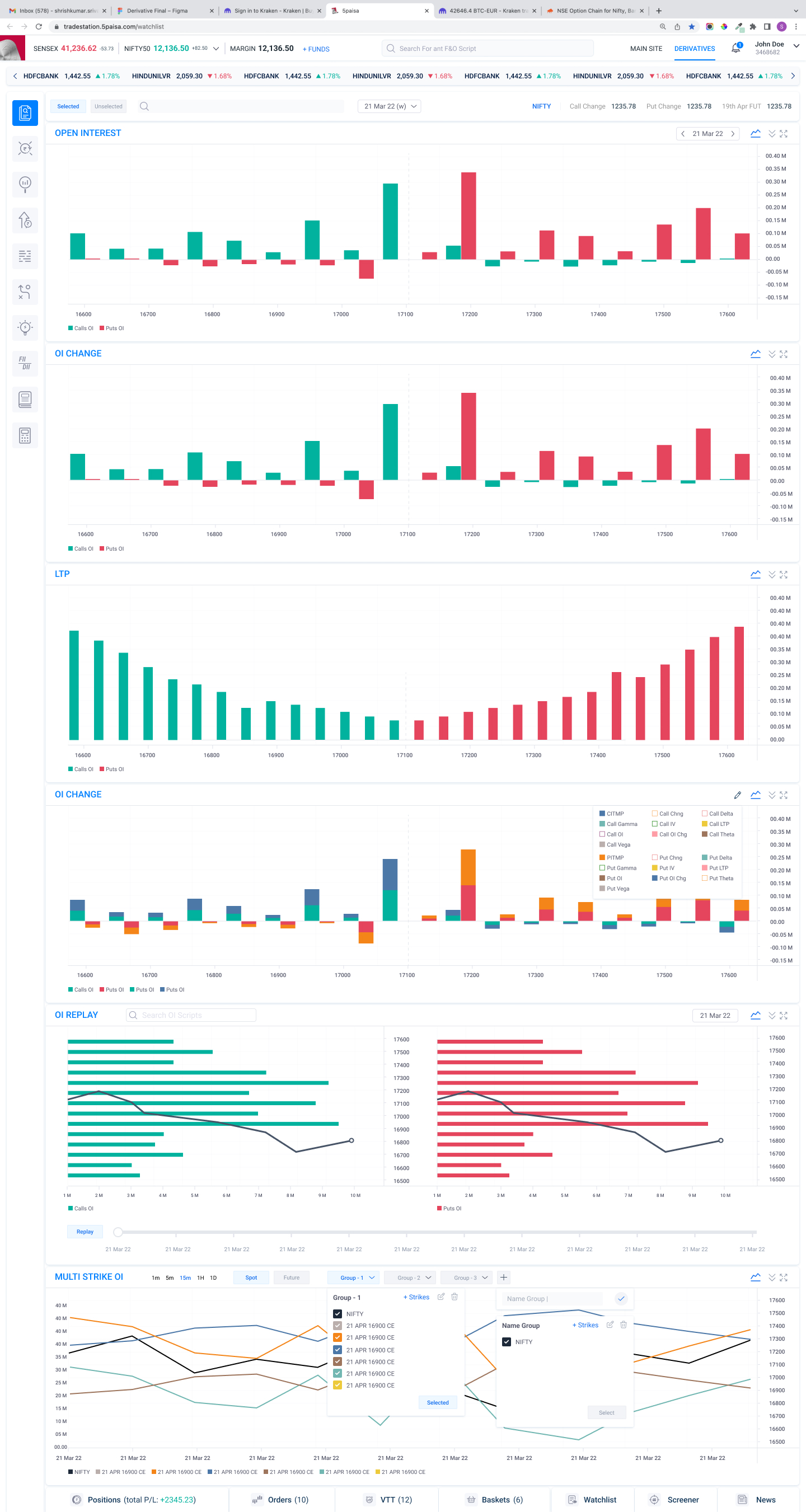 2. India VIX :
Most traders look at the Volatility Index and plan their trades accordingly. Hence, we have provided you with the data upfront without the need to switch multiple tabs. India VIX is the most reliable and best indicator to track the market volatility.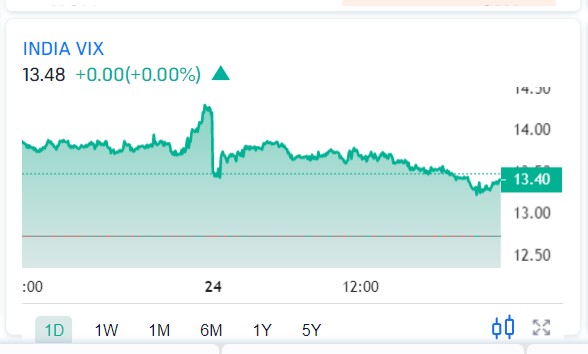 3. Option Chain :
An options chain, also known as an options matrix, is a listing of all available options contracts and their data for a given security. With the option chain, you can analyze options data with the lightning-fast refresh rates like nowhere else.
The Open Interest, LTP, Change in OI, Straddle, and Greeks have been presented with a very profound bar graph for the composed analysis that is explained as under:
Open interest- You can now view an open interest in the option chain section on the web, that'll give you the overview of total outstanding contracts that are held by market participants at point in time.
Straddle- Straddle is the most preferred and easiest trading strategy that many traders opt for. Here on the option chain in F&O 360 web, we've given the whole strategy where you can execute the order with just a click.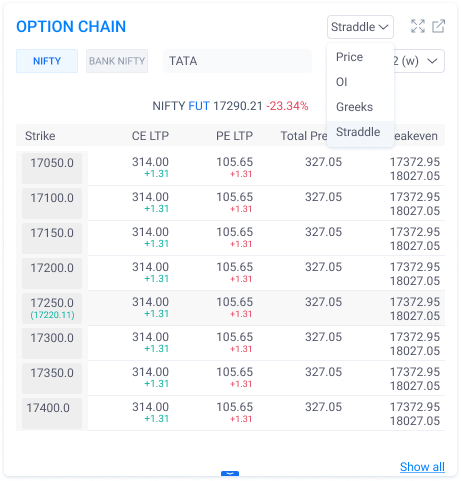 Greeks- If you are an options trader who trades based on the sensitivity and parameters of an option's price to its underlying assets(stocks, bonds, commodities, interest rates, market indexes, and currencies), Greeks are the right strategy for you!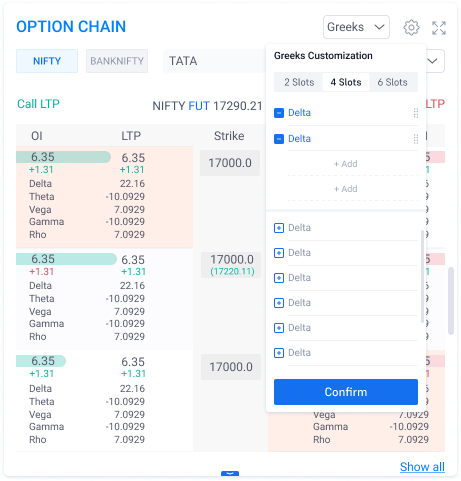 Note: User can view the option chain in 2 modes i.e. Mini option chain on the overview page and full screen mode option that you will find below the overview page

3. FII/DII:

FIIs are the foreign institutional investors, and the DIIs are the domestic institutional investors (DII) who drive the market with their vast sums of money to the market. Considering that we've come up with an FII/DII feature under the FnO 360, that'll help you to stay ahead of the retail participants.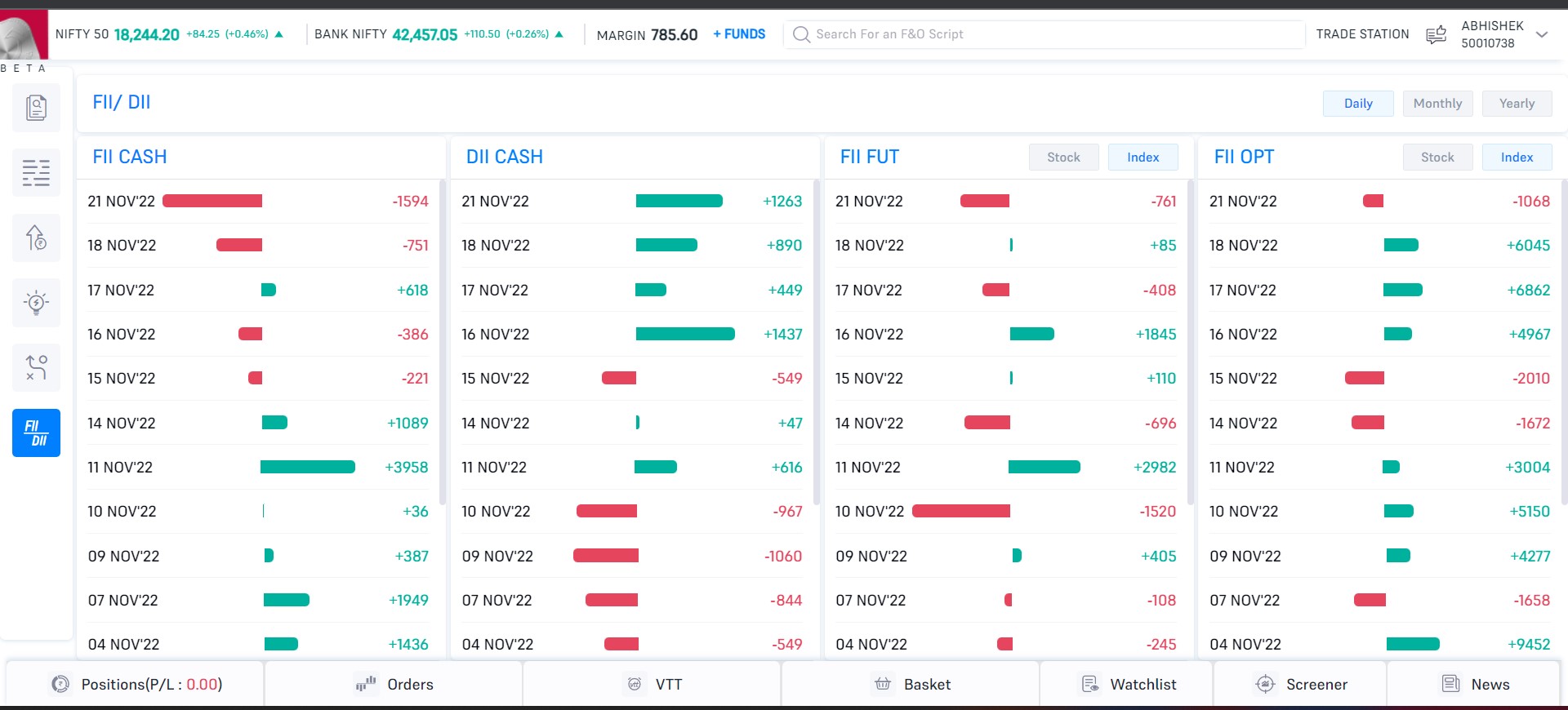 4. PreDefined strategies:

We have come up with a new feature for strategy-based derivatives trading. This PreDefined strategy is the user-oriented technique where one can execute their strategies(straddle/strangle etc.) in a most simplified manner in one go. With this, you will be able to see all the strategy details about the Price, maxProfit, maxLoss, Breakeven points, and its payoffs on one page which makes strategy based trading effortless.


5. Lightweight charts:

Lightweight charts are an important mini chart where you can easily get the idea of the current market trend with a buy/sell sentiment indicator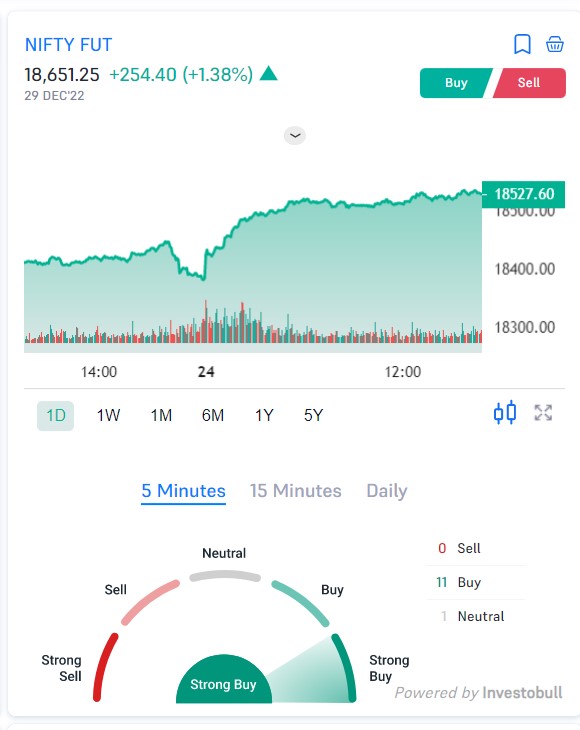 6. Ideas:
Get ideas on derivatives across the segments.Ideas section has been built in such a way that you can get a comprehensive summary covering ideas for Short Term, Intraday, Expiry Special, and Quick Option trade for Equity Derivatives, Currency & Commodity segments. Following are the bifurcation of ideas in the respective segments:
Derivatives: In derivatives segment you can get the ideas on Short term, Quick Option Trades, Intraday, and Expiry special.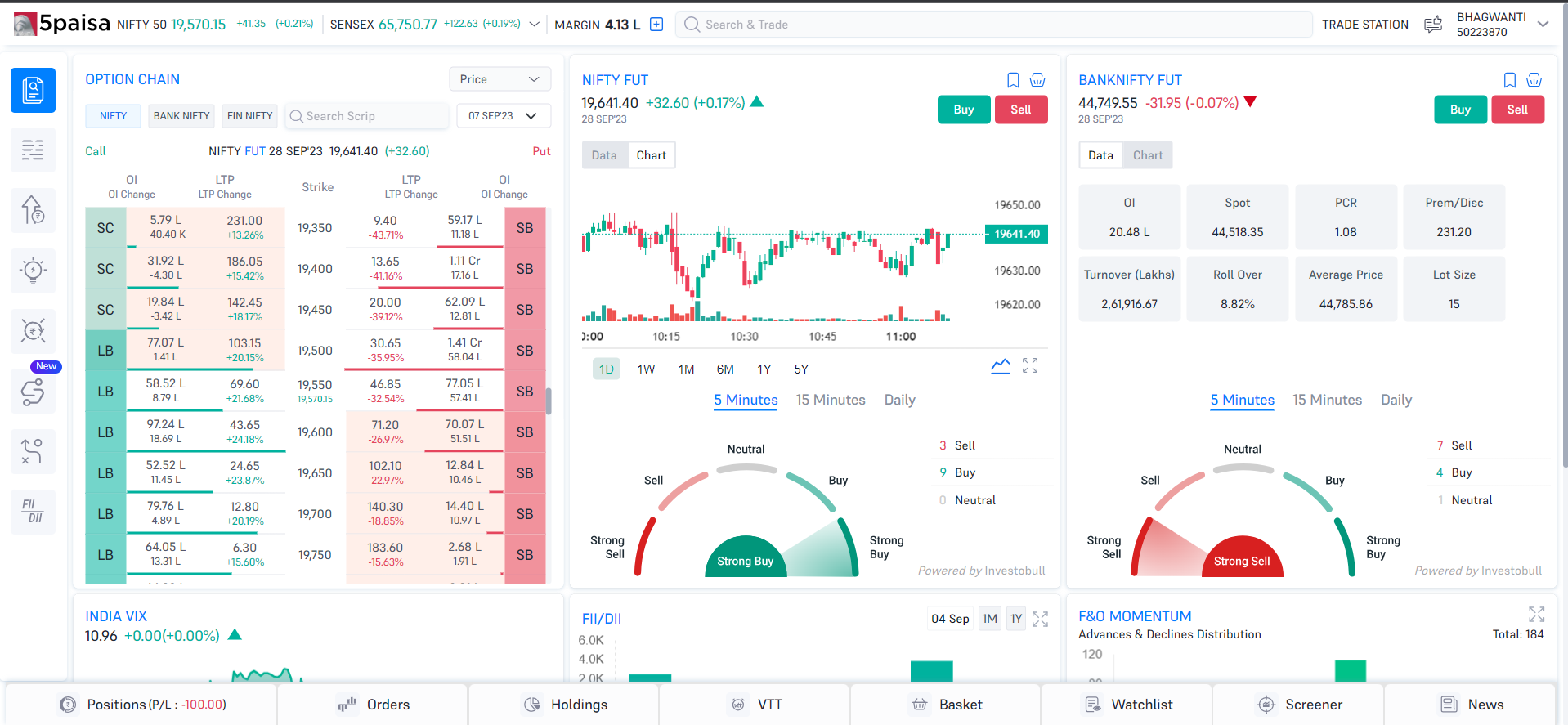 Currency: We've covered Short Term and Intraday in the currency segment
Commodity: You'll get to see Short Term ideas in the commodity
Types of Orders that you can place on FnO 360 window:

We have also added many small features which will make your trading journey easy
Basket orders: Place upto 10 different orders at one go with basket orders. Baskets also help you in executing your strategies and get margin benefit by hedging your positions.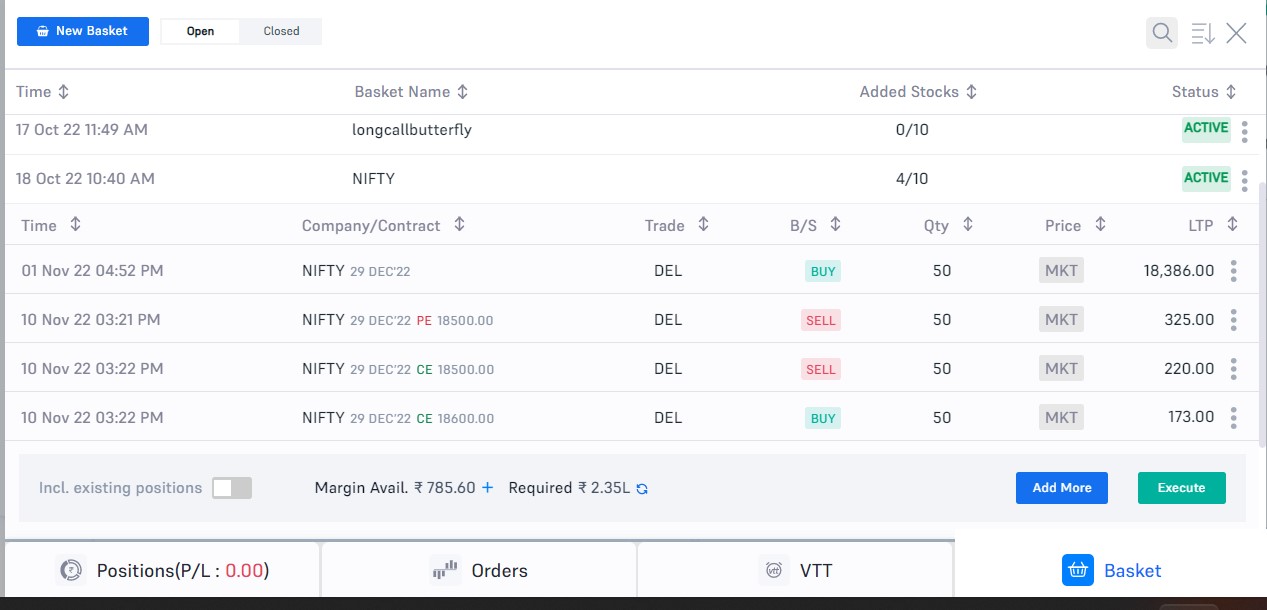 Rollover: You can now carry forward your futures contract to the next month at minimum possible loss in just 1 click.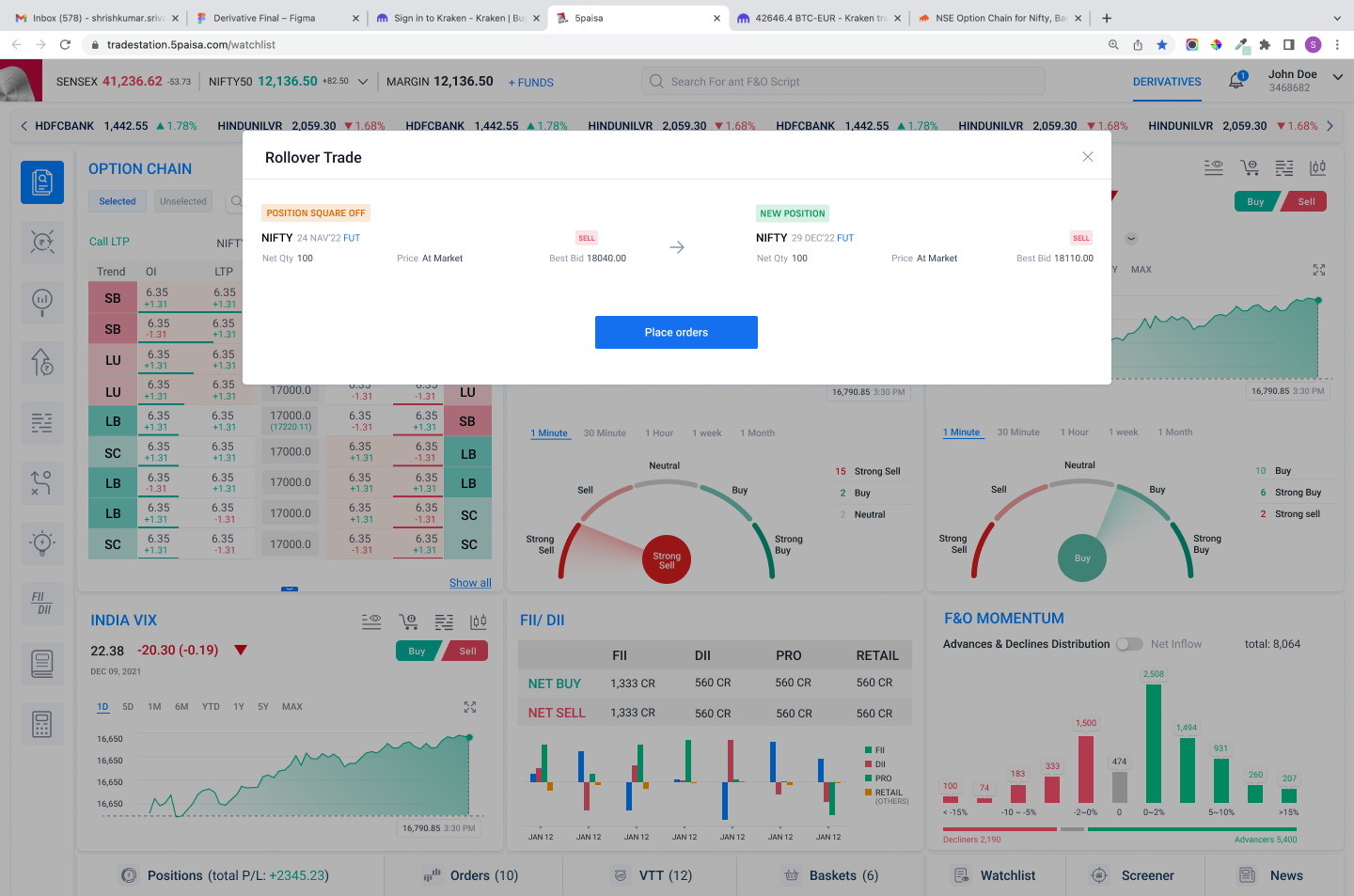 Quick reverse: When market outlook changes, quickly reverse your long position into short position and vice versa at one click.


VTT orders: VTT is the service that allows you to set a trigger price to buy or sell a scrip based on a price trigger in the future for upto 1 year after its creation. Whenever the market price reaches the order price, the VTT order gets triggered from our system and is sent to the exchange.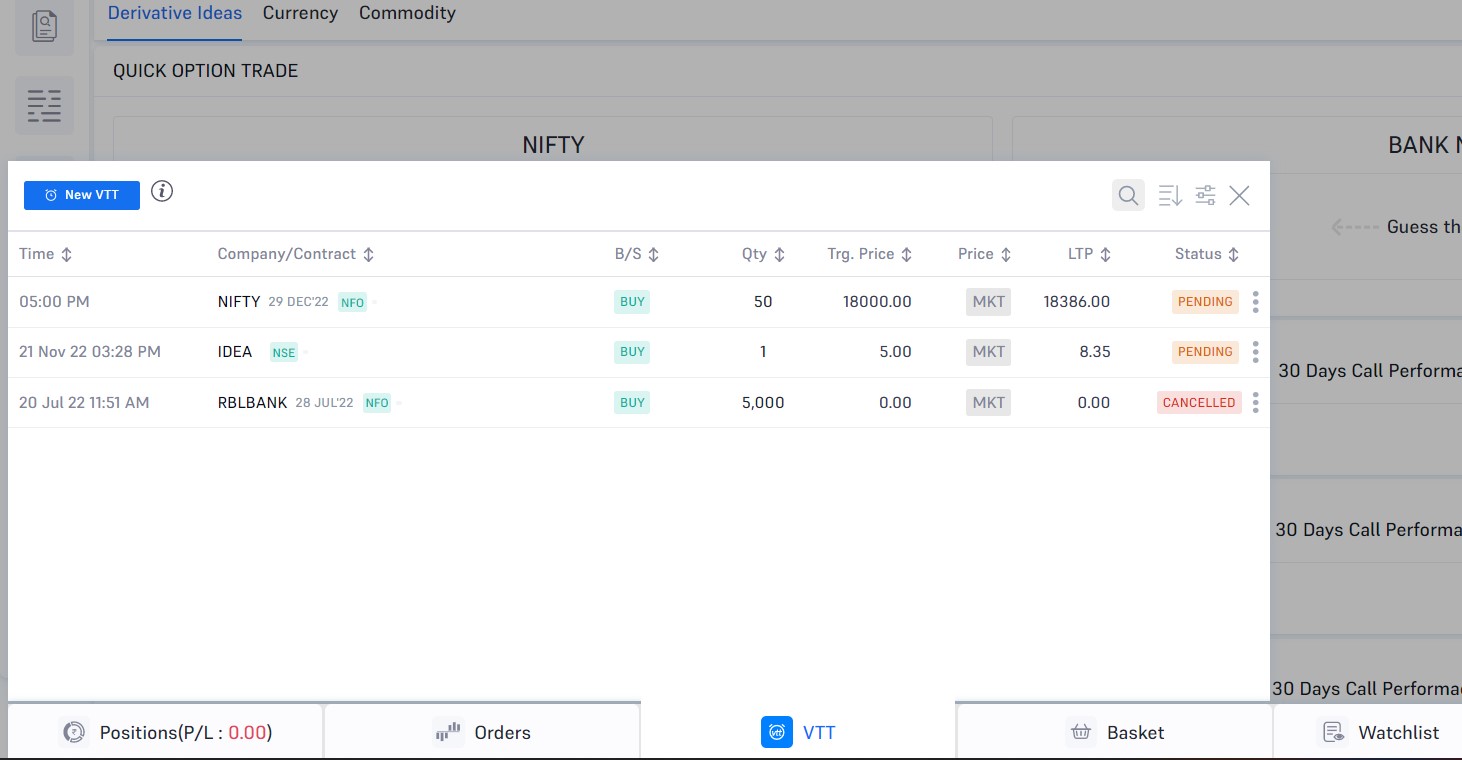 We also have an additional special feature to the FnO 360 window:
Sleek Orderform: We have introduced Sleek Orderform, so that you can understand it easily and punch your orders efficiently.



F&O Momentum: It offers a visual representation of the live market momentum. With this feature, you can see how many stocks under the F&O segment are trading in positive and negative and in what range.



Position book and Watchlist: The position book in your portal has been completely redesigned so that users can easily understand the current position of all his/her trades. We have also revamped the thought process of the watchlist. Now we have a default watchlist which includes all the FnO stocks.



News/corporate announcements: We have added a section where you can check newly posted corporate announcements and updates by the companies. Keeping track of the news is an important part of the trading journey as new news brings new movements and participation to the market.


If you're an extensive FnO trader and looking for the best suitable websites for a seamless trading experience, FnO 360 is the place for you!