We are excited to announce that along with the Equity pledge now we are also allowing to pledge Mutual funds (including liquid funds) to get collateral for you to trade in Equity Intraday, futures and options.

Customers can pledge almost 500 approved mutual fund schemes to get the additional margin.

The collateral will be provided on the approved list of stocks/bonds/mutual funds that can be pledged, after deducting a per cent called a haircut.

So if the haircut is 10%, for every Rs. 100/- worth of Mutual funds pledged, you'll receive a collateral margin of Rs. 90/-.

Click
here
for the list of shares / MFs / Bonds / Liquidbees/ ETFs that can be pledged along with the Haircut %. The collateral margin can change from time to time.
Collateral from Approved List of Liquid Mutual Funds will be considered as 100% Cash Component of your margins when you take positions.

Here the margin against pledged liquidbees ETFs and liquid mutual funds after the haircut deduction will be considered as CASH Collateral.

Exchange mandates 50% of the margin required (when trading futures and selling options) to be maintained in Cash or Cash equivalent and the rest 50% can be in other approved form of securities. So here the margins from pledged liquid mutual funds/ liquidbees etc are considered as Cash for this purpose.

Once the pledge is created successfully, the margins shall be updated in your funds section in the next 15 minutes which you can utilize it to take positions. The margins against mutual funds can be seen in the collateral section inside the Funds page. Please go through below post for step by step process of creating a pledge or viewing the collateral details

Please note: Exchanges stipulate that for overnight F&O positions, 50% of the margin needs to compulsorily come in the form of cash or cash equivalent (Here if you have liquid funds /liquid bees, pledge them and use it as cash equivalent collateral) and the remaining 50% can be in the form of other approved Shares /Mutual Funds/Bonds etc. After considering both of these collaterals If you don't have enough margins in the said proportion then, there will be an interest charge also called delayed payment charges per day applicable on such margin deficit.

So assume you take positions that require a margin of Rs 1 lakh, you will need at least Rs 50,000 in cash irrespective of how much non-cash collateral margin you have. Assuming you don't have this Rs 50,000 in cash i.e. you don't have this amount in your ledger then, interest will be applicable on this deficit of Rs.50000. Now since Liquidbees & some selected Liquid Mutual Fund schemes are considered as cash equivalents by the exchange, so if you pledge Liquidbees or units of these selected liquid mutual fund schemes and their value after the haircut is said more than Rs. 50000 then, it will be treated as Cash for the purpose of margins. Therefore, interest ( delayed payment charges ) will not be changed on Rs.50000/- which otherwise would have got charged if you did not have sufficient Cash in your trading ledger.

All pledged stocks will remain in your demat account only and will be shown as Pledged Balance until they are unpledged at your request or when you sell. There will be nominal charges for Pledging which is Rs. 12.5 + GST per scrip/ISIN. The charges of Unpledge are also the same. You will continue to get benefits of all corporate actions like dividends, splits, bonuses, etc. on the stocks you have pledged.

Mutual funds can be pledged between 8 am to 9 pm.

Pledging Mutual fund

Step 1:

On Mobile applications,

Sign In << MF Section << Click on Portfolio.

On website,

Go to 5paisa.com < Login using your credentials < Go to the Mutual Fund < Click on MF holding

Step 2:

On the MF holding page -

In mobile application, Go to the holdings tab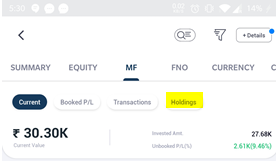 Step 3:

On the holding tab, you can see the summary of your mutual fund holdings. On this page, Select the Pledge for Margin button.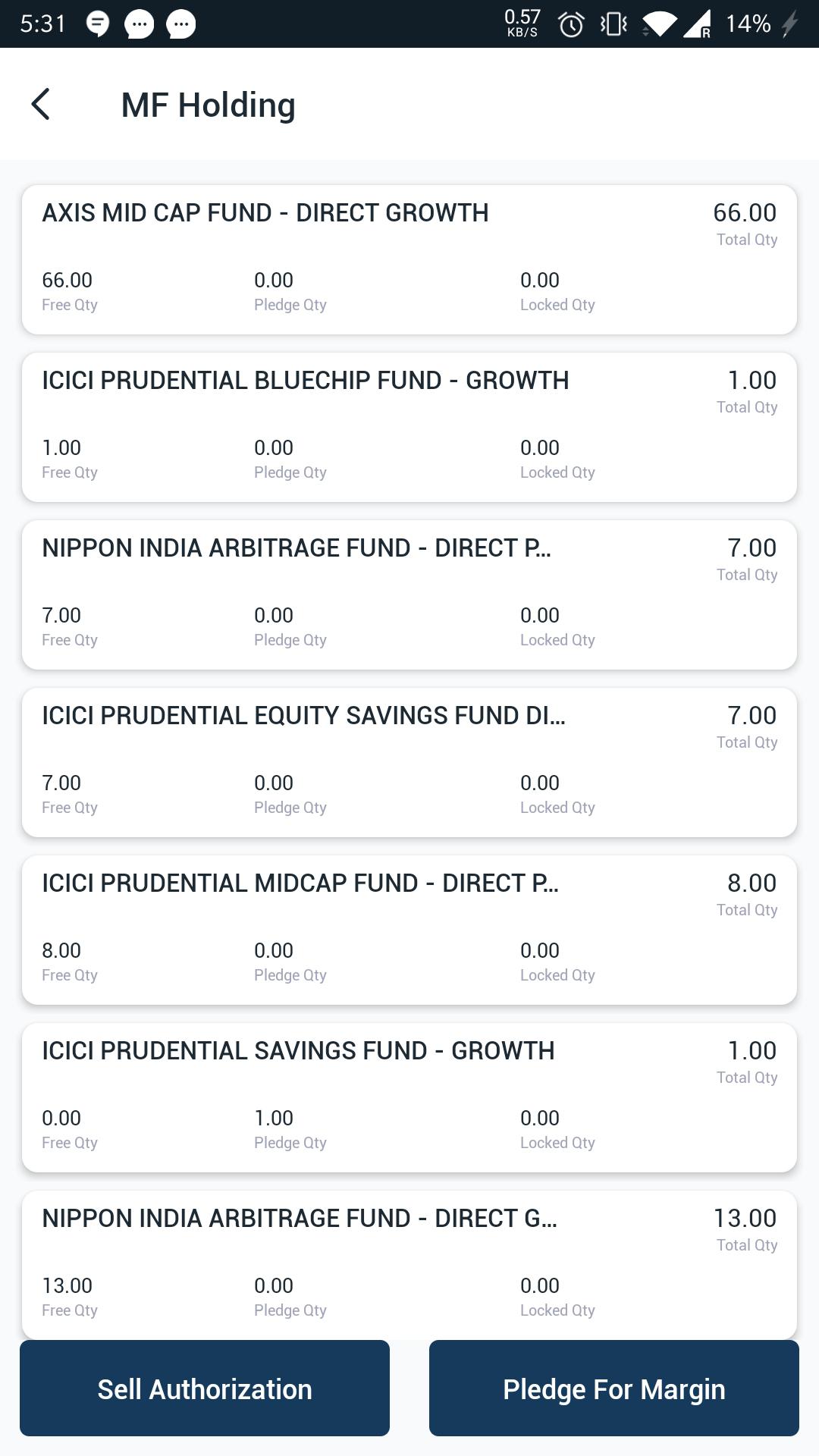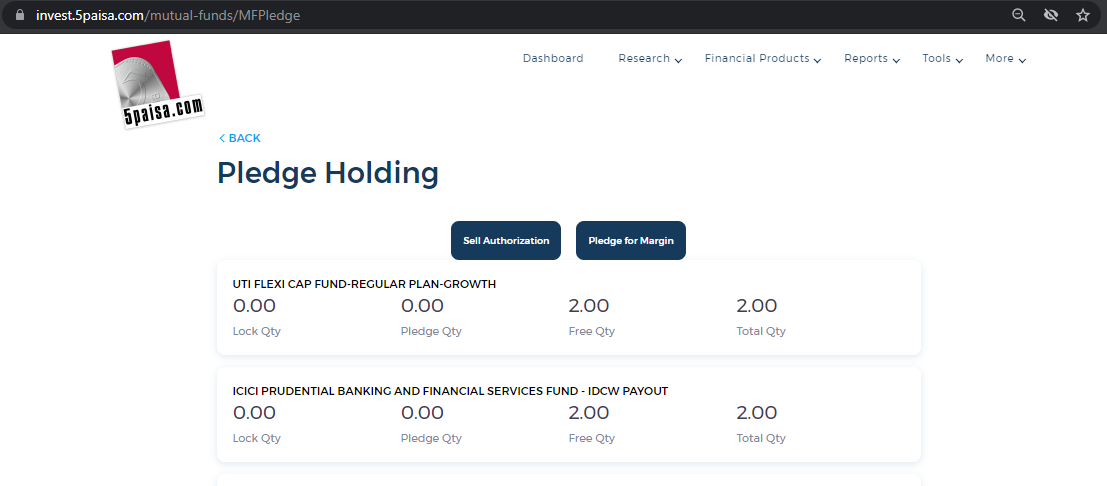 Step 4:

On the Pledge For Margin , Select the Scheme you want to pledge and submit your request.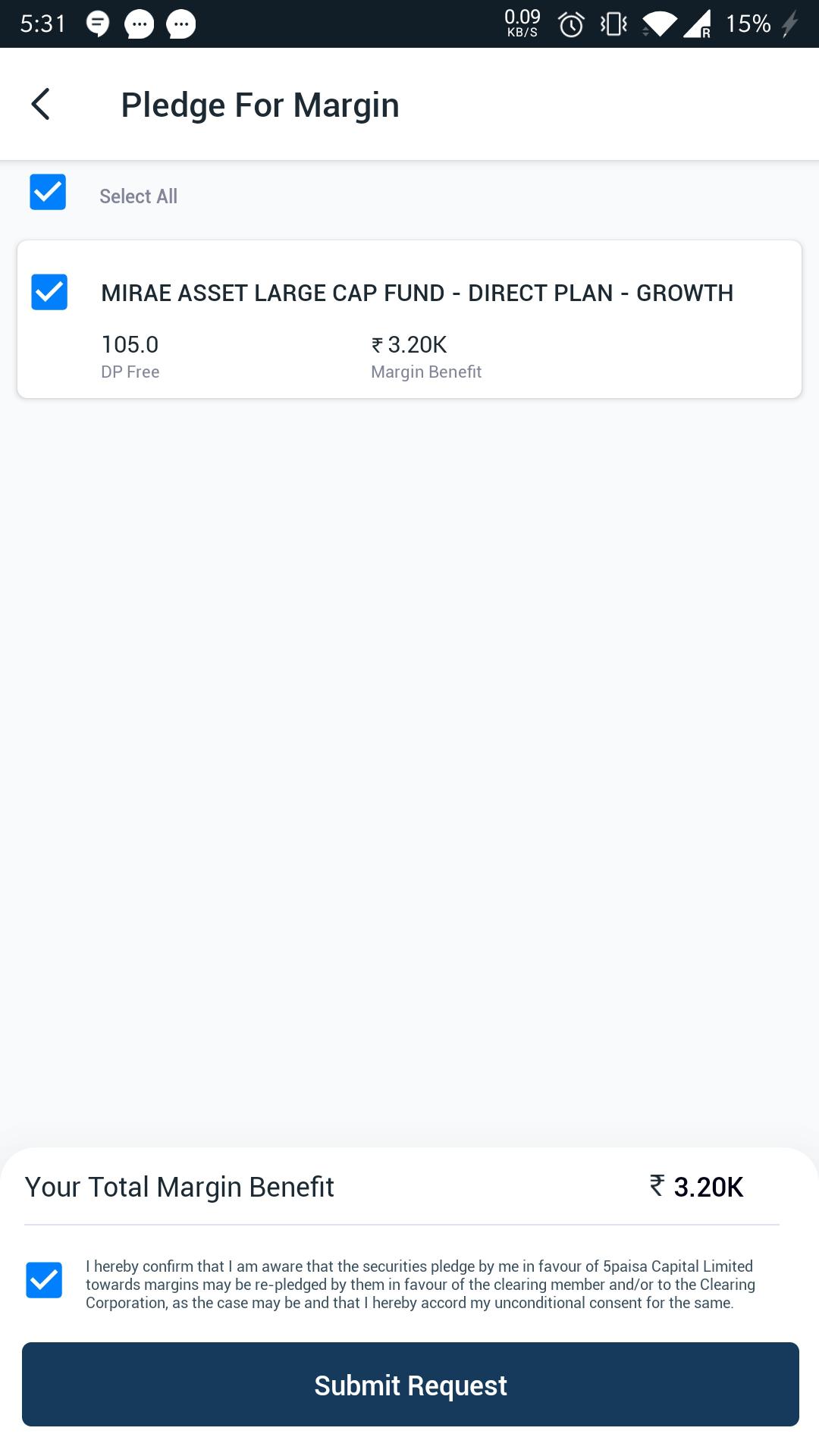 Step 5:

Upon submitting request, You will be redirected to the CDSL website for OTP authentication of pledge request. On success authentication your MF units will be pledged.

Step 6:

The collateral received against the Pledged funds will be added in the Net available margin with 10 minutes of pledge confirmation.

On the mobile application, the margin against normal MF can be seen in the collateral section of Mutual fund tab. The margin against Liquid funds can be seen under the collateral tab in the equity section.

On website, you can see a combined collateral for equity and mutual fund under the collateral section in Funds.

The cutoff time for unpledge will be 3:30pm. Request placed after 3:30pm will be processed on the next day.

The unpledged quantity will reflect in customer's free holding after T+2 days.

A customer cannot directly redeem mutual funds which are pledged. They will have to unpledge the units to redeem the funds.

Click on the video below to know more about pledging Mutual Funds through 5paisa.