What are your brokerage charges and are there any other charges apart from brokerage?
We do not charge any brokerage. For any segment, we charge flat fee of Rs. 20 per executed order (Applicable from 01st January, 2020). Apart from flat fee, statutory charges are levied. Following are the statutory charges:

General Charges: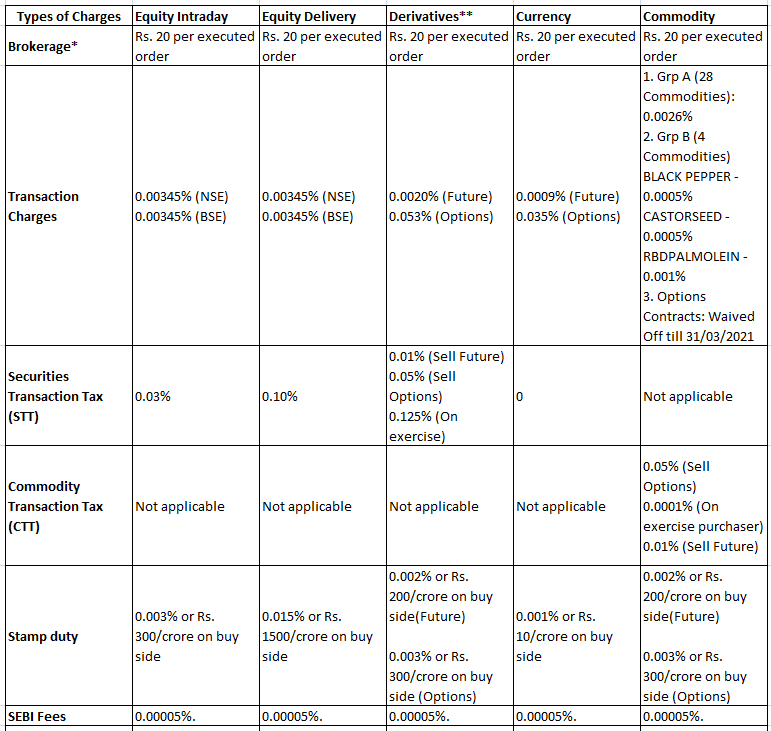 Note:
18% GST applicable on all the above charges except STT, CTT & Stamp duty. Changes in SEBI Fees applicable from 01st June 2020 to 31st March 2021.
*Brokerage Rates differ as per Add on Packs if selected by you. To know more about Add on Packs,
CLICK HERE
** Physical Delivery in F&O will be charged at 0.10% of contract value
To know more about Trading Related Charges,
Click Here
Related Articles

What are the subscription and brokerage charges for Sensibull?

Subscription Charges for Sensibull: Product Subscription Plan Fees Sensibull Pro 1 month Rs. 970 + 18% GST Sensibull Pro 6 months Rs. 4,680 + 18% GST Brokerage charges will be the same i.e. flat fee Rs. 20 per trade (Applicable from 01st January, ...

What is the brokerage rates and all charges?

We charge Zero brokerage for all the stock trades done for US stocks and ETFs. However investing in Vests, our pre-curated portfolios attract an upfront fee of $3/purchase and an AUM fee of 0.5%/year. If you withdraw funds from your account with ...

What charges are levied everytime I trade?

Each time you trade there are few charges that will be levied basis the segment. Please note, if you have an active subscription/pricing plan then you will be charged lesser rates as per your plan. Note: 18% GST applicable on all the above charges ...

Are there any additional fees & charges applicable for personal loan?

Apart from the EMI amount the following fees will be charged to you Processing fee upto 1.5% Late payment charges in case of default In case your monthly EMI gets bounced, you will have to bear a bounce charge of Rs. 590/- and also penalty charges ...

Does 5paisa have any additional charges for buying gold?

The Price of gold displayed at any given time is inclusive of the cost of gold, any operational expenses and 5paisas commissions. Apart from this the only charges applicable are - Convenience fee at the time of making payments using the provided ...