Commodity Market Timings and how much exposure 5paisa provides in commodity?
·

Monday to Friday: 09:00 A.M. to 11:30 P.M.(up to 11:55 P.M. on account of day light savings typically between every November and March of the following year)

Agri-commodities are available for futures trading up to 5:00 p.m. whereas other commodities such as Bullions, Metals and Energy products are available up to 11:30 pm / 11.55 PM

International reference able Agri-commodities are available up to 09:00 pm as notified by SEBI.
Exposure in Commodity segment: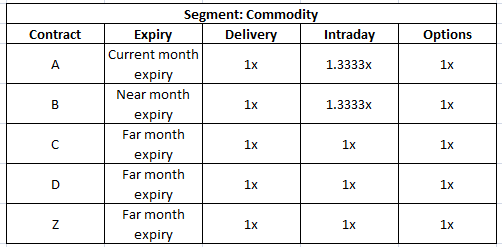 Levy of Additional Margin for Certain Commodity Contracts under exceptional situations:

In case of exceptional market movements triggered on account of any factors prevalent in the country or in view of any global events, situations or circumstances impacting Indian markets and its volatility, thereby leading to erratic price movements in the prices of any commodities, 5paisa Capital reserves its right to levy such additional margins, as it deems fit, to safeguard its interest as well as the interest of the clients and market as a whole.

Intimation of the levy of these additional margins shall be duly communicated to the clients via email / SMS / app notifications and the clients are expected to keep themselves updated of the same on a regular basis.

Related Articles

What are market timings of the Stock Market?

For Equity Market The market timings of the commodity derivatives segment are: Pre-open Session Order entry & modification Open: 09:00 hrs Order entry & modification Close: 09:08 hrs* *with random closure at the last minute. Pre-open order matching ...

How much exposure/limits you provide?

Segment: Cash Segment NSE & BSE Haircut is the difference between the market value of the collateral (here the shares are pledged as collateral) and the loan that the stock broker gives you in order to trade in stock market. It is generally expressed ...

Square off process in commodity market

Commodity Square off Process 1. Intraday Square off Intraday Square off At 04:30 P.M. (Market closes at 05:00 P.M.). For Agri Commodities other than those open for trading till Evening. Intraday Square off At 08:30 P.M. or 09:00 P.M.in case of ...

What are the stock market timings of all the segments?

Trading on the equities segment takes place on all days of the week (except Saturdays and Sundays and holidays declared by the Exchange in advance). The market timings of the equities segment are: 1. Pre-open session: Order entry & modification ...

What documents are required to open an account for Limited Liability Partnership (LLP) at 5 paisa?

Limited Liability Partnership (LLP) accounts can be opened using offline mode. The specific documentation requirements for initiating a Limited Liability Partnership (LLP) account depend on the KYC/KRA status. To conveniently check the status, please ...