"June Jumbo Offer" - Get a24 Carat 50 gm Pure Gold Bar
Offer valid from 1st June, 2021 to 30th June, 2021.

"June Jumbo Offer" for Top Referrers of the month

*Refer to the definition of referral active account

Existing Offer - Refer your friends and grab these exciting awards:

Rs.500 for your first ever referral

Rs.250 and lifetime brokerage sharing of 12.5% for subsequent referrals

That's not it! Your referral code gets your friend 3 exciting benefits to make investing easy and rewarding for him/her:

Zero account opening fee

Credit worth Rs. 250

Zero brokerage for the first 30 days

No upper limit to the number of referrals you can make and no conditions to get the referral reward. All you friend needs to do is open a demat account with 5paisa using your referral code.

Here is how you can earn with each referral: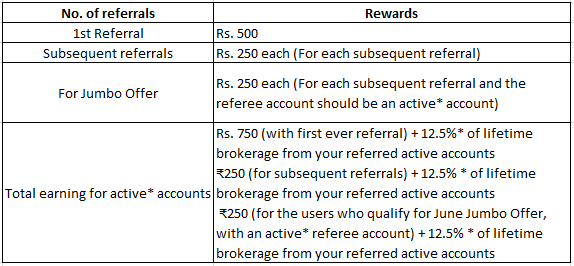 Here is a sample to show how brokerage sharing works: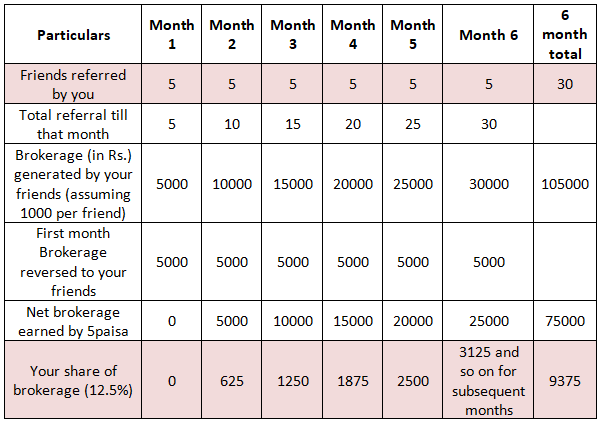 Definitions:

1. Referrer: All clients of 5paisa who refer prospective customers to open demat account by using their unique referral link

2. Referee: All customers who open their demat account with 5paisa using the referral code or link of an existing 5paisa Customer

3. Referral Date: The date when a referee begins his account opening for the first time

4. Referral Reward:
The benefit that the Referrer will get once his referred friend successfully activates his/her demat account with 5paisa.
5. Referral Active Account: A referred account will be considered as an Active Account only if account opening process completed within 5 days of registering at 5paisa. And minimum of ₹1500 trade/investment made within 15 days from the date of account activation.

Terms & Conditions:

There is NO upper limit to the number of referral or referral rewards

No two referral offers can be combined at any given point. Users are can qualify under only one offer in a given active month

By sharing referral link or code, referrer consents to receive ₹250 cash credit in his ledger

Referrer is eligible for ₹500 for first referral only if it is the first ever referral since the referrer opening account with 5paisa

Referrer will receive the referral reward of ₹250 for each referral once the referee account is activated i.e. Demat and trading account is opened after complete document & application verification is in-line with the SEBI / Exchange regulations, and internal policies and procedures of the company. And the referrer account is a active account as per the definition

The ledger credit will happen as per 5paisa payment settlement policy as per the mentioned terms and conditions

Referee will be eligible for credit ₹250 which will expire if not utilized within 30 days of its credit in ledger. This can be utilized to trade or can be invested in Mutual Funds but cannot be withdrawn

Referee will be eligible for 100% brokerage cashback in the first 30 days. For example, if the referee pays brokerage of ₹1000 is the first month; he will receive ₹1000 as brokerage cashback

The brokerage cashback will be processed to the Referee's ledger within 5 days of completion of the first 30 days, post the date of account activation

Users cannot add margin using credited referral reward money

From the second month, the referrer will be eligible for 12.5% of the brokerage generated by his referees For example, if the referee pays brokerage of 1000 in the second and subsequent months; referrer will receive ₹125 per month

TDS at applicable rates shall be deducted from the fees so paid

This offer cannot be combined with any other offers. June Jumbo Offer is a part of referral offer only which is in addition to the Existing Offer

If details of the referred client already exists in 5paisa database as an existing client or as a lead client, then it will not be considered under this scheme for both, referral or special reward benefits, or June Jumbo Offer, and 5paisa reserves the right to exclude the said accounts for calculation of referral rewards

All the verification and account opening process will be carried out by 5paisa team, and the team reserves the right to reject the case depending on compliance requirements and the company's existing policies and procedures

Management reserves all the rights to modify or terminate the arrangement of scheme at any time without prior notice. The decision of 5paisa on all matters relating to, or in connection with the use of this offer shall be final and binding on all parties concerned

5paisa reserves the right to carry out checks and controls as it deems fit and proper, before the credit of referral reward to the referrer

Each referral reward winner will be scrutinized under the "referral quality check committee" before crediting the reward money in his ledger

As per 5paisa referral payment cycle, all the referral reward will be credited to users account at the end of every week. Final settlement of jumbo offer will be done after relevant applicable deductions in the subsequent months cycle

Gold bar price is subject to the market rate at the time of the credit


Referrer agrees that the following activities are expressly prohibited and engaging in any of these will lead to initiation of legal and criminal action against you and also result in immediate termination and disqualification from the Referral Program, forfeiture of existing referral invitations and accrued, but not yet received, referral rewards:
a) Spam, bulk distribution of invitations, distribution to strangers or any other promotion of 5paisa Referral offer through invitations that would constitute or appear to constitute unsolicited commercial e-mail, SMS, publishing any article or content about 5paisa products, services etc.

b) Fraud, attempted fraud or abuse of the 5paisa Referral offer or these Terms & Conditions.

c) Selling, trading, bartering or providing anything of value to your Invitee beyond the referral invitation or otherwise using Your Program invitations or Rewards for promotional purposes.
d) Organizing competition, contests online, posting content about 5paisa etc.

e) Any act or omission resulting in damage to 5paisa in any form whatsoever in nature.