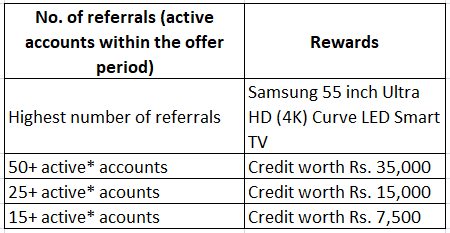 *Refer to the definition of referral active account
Existing Offer - Refer your friends and grab these exciting awards:

Rs.500 for your first ever referral

Rs.250 and lifetime brokerage sharing of 12.5% for subsequent referrals

That's not it! Your referral code gets your friend 2 exciting benefits to make investing easy and rewarding for him/her:

Zero account opening fee

Credit worth Rs. 200
No upper limit to the number of referrals you can make. All that your friend needs to do is, open a demat account with 5paisa using your referral code.

Here is how you can earn with each referral: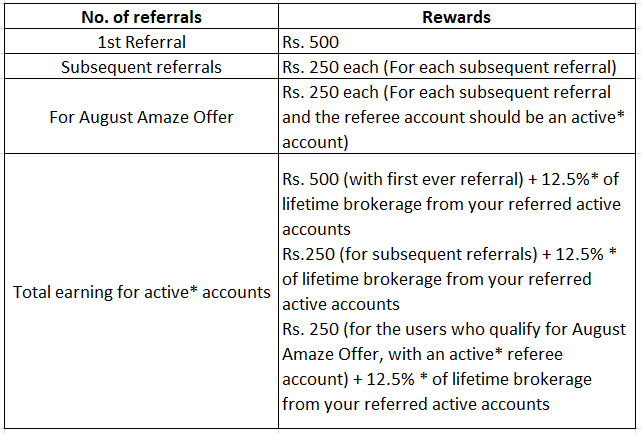 *Refer to the definition of referral active account
Here is a sample to show how brokerage sharing works:

Definitions:

1. Referrer: All clients of 5paisa who refer prospective customers to open demat account by using their unique referral link

2. Referee: All customers who open their demat account with 5paisa using the referral code or link of an existing 5paisa Customer

3. Referral Date: The date when a referee begins his account opening for the first time

4. Referral Reward:
The benefit that the Referrer will get once his referred friend successfully activates his/her demat account with 5paisa.
5. Referral Active Account: A referred account will be considered as an Active Account only if account opening process completed within 5 days of registering at 5paisa. And minimum of ₹1000 trade/investment made within 15 days from the date of account activation.

Referrers who are referring more than 10 accounts are required to have a certain% of their referred accounts as active accounts. This is applicable to everyone who doesn't qualify for the August Amaze Offer.
a) Spam, bulk distribution of invitations, distribution to strangers or any other promotion of 5paisa Referral offer through invitations that would constitute or appear to constitute unsolicited commercial e-mail, SMS, publishing any article or content about 5paisa products, services etc.
b) Fraud, attempted fraud or abuse of the 5paisa Referral offer or these Terms & Conditions.

c) Selling, trading, bartering or providing anything of value to your Invitee beyond the referral invitation or otherwise using Your Program invitations or Rewards for promotional purposes.
d) Organizing competition, contests online, posting content about 5paisa etc.

e) Any act or omission resulting in damage to 5paisa in any form whatsoever in nature.