How is Demat maintenance charge levied?
Demat Maintenance charges are applied for maintaining your demat A/c with CDSL. It is known as Demat AMC (Annual Maintenance Charges).

With effect from 1st January 2021, the revised charges which shall be applicable to 5paisa demat account holders are shown below: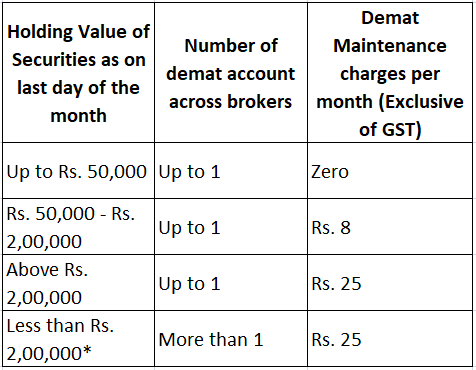 *As per SEBI guidelines, BSDA clients who hold more than 1 account across depositories irrespective of the holdings, Rs. 25 per month. + 18% GST AMC will be charged.

The applicable charges will be debited to your trading account at the end of every calendar month, depending on your holding value as on the last day of the respective month and the number of account as reported by the depository
The aforementioned slabs are applicable to only BSDA clients. All the FSDA clients shall be levied an amount of Rs.25 + 18% GST per month towards the Demat AMC (Annual Maintenance Charge)

Related Articles

How is DP transaction charge levied?

DP transaction charges are applied at the time of selling delivery shares from your DEMAT account and in some scenarios even when you are not selling shares. These charges are applicable with effect from 08th June 2020. DP Charges will be levied as ...

How to open a Demat account at 5paisa and what are the account opening charges?

Welcome to an all in one account at 5paisa and there are no charges levied to open a Demat account with 5paisa. To open an account online, you just need to follow these 7 easy steps: Step 1 To begin with, enter your phone number and click on ...

How can I transfer shares from other Demat account to 5paisa account?

Online Transfer The following is the process for transferring shares online from one Demat account to another. The investor needs to register on CDSL or NSDL website. Investor needs to select an option of a facility named "Easiest- electronic access ...

What charges are levied everytime I trade?

Each time you trade there are few charges that will be levied basis the segment. Please note, if you have an active subscription/pricing plan then you will be charged lesser rates as per your plan. Note: 18% GST applicable on all the above charges ...

What is Demat Debit Pledge Instruction?

Demat Debit Pledge Instruction (DDPI) is a process through which you can pledge your securities in a Demat account as collateral to secure a margin and you may sell your purchase transaction without Sell Authorization or T-pin.