What are the trading hours for a particular scrip on its day of "Listing"?
Pursuant to the SEBI circular exchanges have decided to extend the Call Auction mechanism to IPO's (New and Relisted Scrips) on the first day of trading/re-commencement. Call Auction in Pre Open session for IPOs (New listing) and Re-listed Scrips is a mechanism to determine the Opening Price based on aggregate supply and demand for the underlying on the first day of trading/re-commencement of trading. The session would commence for 60 minutes between 09:00 AM and 10:00 AM out of which order placement in the Pre Open session would be allowed for the first 45 minutes only. The rest of the time would be utilized for exchange related functions as illustrated in the indicative schedule mentioned below: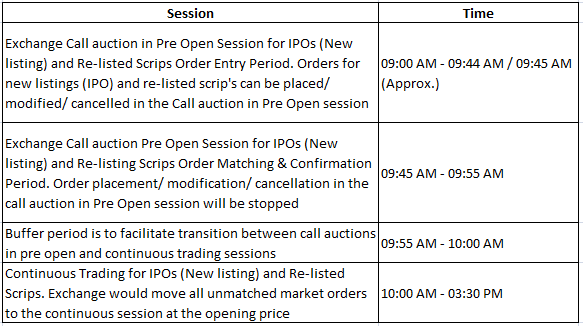 Related Articles

Shortcut Keys Listing

Trade Station 2.0 – Shortcut Keys Listing ​ Shortcut Key Trading Keys / Reports F1 or + Buy F2 or - Sell F3 Scrip Order Report F4 Market Watch / Price Watch F5 Market Depth F6 Net Position F7 Portfolio F8 Scrip Trade Ctrl M Margin Window Esc ...

Will profits from intraday trading be considered in Net Available margin for Next trading day?

Profits arising out of intraday trading, though getting credited in the ledger will not be available as Net Available Margin up to T+2 Day.

What is Intraday and Delivery Trading?

If customer wishes to trade in stock market, there are 2 types of trades wherein customer can trade. Intraday: When you buy or sell stocks on same day then it is called as Intraday Trading. If you buy shares today you need to square off your position ...

How will peak margin affect my margins for trading in the Cash Segment?

For intraday: For now; there will be no change because currently exposure allowed is less than 10X. However, going forward the exposures will be reduced to 5X. For Delivery sell: Currently, we release 100% of Sell value for purchasing any other stock ...

How can I view the detailed report of a particular stock?

To view the detailed report of a particular stock, follow the below steps: Step. 1. Click on Trade station icon at top left to open menu Step. 2. Click on Market Movement Step. 3. Search the stock and modify time interval details Step. 4. You will ...