What is a Account Maintenance Charge (AMC) associated with 5paisa Demat account?
Demat Maintenance charges are applied for maintaining your Demat A/c with CDSL. It is known as Demat AMC (Annual Maintenance Charges).

With effect from 1st January 2021, the revised charges which shall be applicable to 5paisa demat account holders are shown below: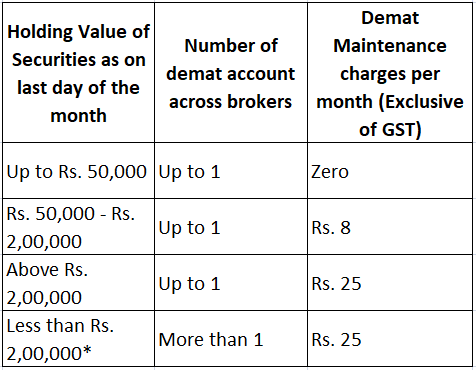 *As per SEBI guidelines, the BSDA clients who hold more than 1 account across depositories irrespective of the holdings will be levied ₹25 per month+18% GST AMC will be charged.





The applicable charges will be debited to your trading account at the end of every calendar month, depending on your holding value as on the last day of the respective month and the number of account as reported by the depository




The aforementioned slabs are applicable to only BSDA clients. All the FSDA clients shall be levied an amount of ₹25+18% GST per month towards the Demat AMC (Annual Maintenance Charge).