What is a Quick Reverse Position? How to use this?
With the Quick Reverse position, you can reverse your stock's position with just a click, whether Buy or Sell.
Note: Quick reverse is available for all segments expect equity delivery.
Path- Application >> Books >> Position >> Click on Reverse symbol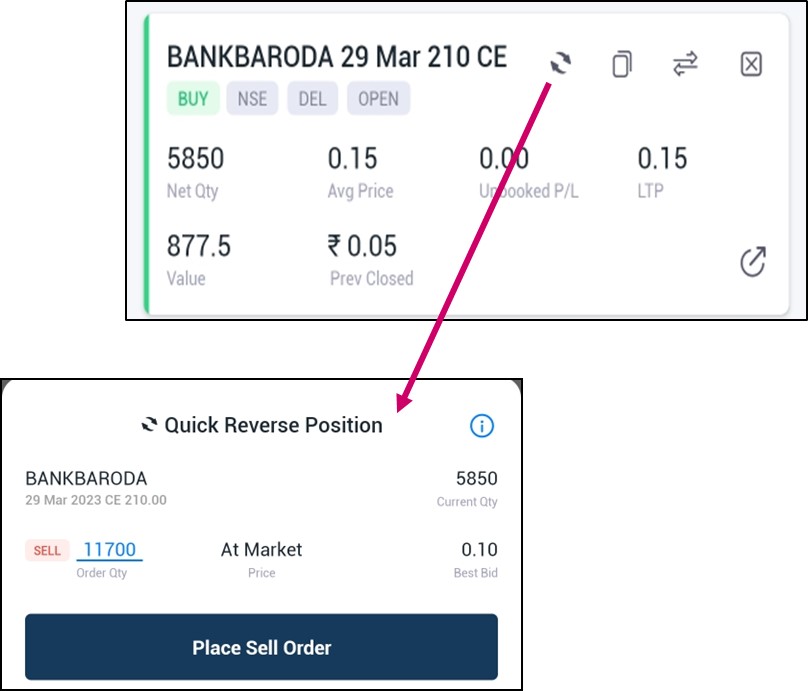 Mechanism:
For instance, if you hold a buy position and the market experiences a sudden decline, you have the option to swiftly reverse your position from buy to sell with just one click. In practical terms, if you initially buy 50 quantities and decide to reverse your position, the system will execute a short sell of 100 quantities, effectively opening up a short position of 50 quantities.
Related Articles

How to convert your position?

Once your trade is successfully placed, you have the option to select and convert your trade under the "Positions" tab from Delivery to Intraday and vice-versa. The conversion of Intraday to Delivery is subject to the margin availability for the ...

What is a Rollover Position?

The Rollover Position allows you to carry forward your Future Positions from the current position to the next expiry in just a single click. With this feature, you can just click and the current month's position will be squared off on the expiry. ...

How to place request for physical delivery of Futures and Option position?

Path: Application >> Books >> Position >> Click on Open Position >> Mark to physical delivery This option is shown only on expiry day. Starting from October 2019, settlement now involves giving or receiving actual shares. Physical settlement is ...

Can I use my 5paisa ledger balance to invest in US markets?

Sorry, but you cannot use your 5paisa ledger balance to invest on Vested. It has a separate fund transfer process as the funds are held with a different custodian. Users can transfer funds using their savings bank account. Currently, ICICI is the ...

In which scenarios my equity intraday position gets square off by 5paisa?

Risk team can initiate square off in 4 scenarios. All scenarios are explained below- Scenario 1: DPR based Square Off– (Anytime during the Day) Exchange prescribes Daily Price Range (DPR) for most of the stocks. If the client has taken a short ...