An individual 5paisa Demat account can be opened online only if the mobile number is linked to the Aadhaar card.

For opening an account, visit
here
or download the application from
play store
Follow the below steps to open your Demat account with 5paisa-

Step 1: Registration of Mobile Number and Email ID
Enter your mobile number and accept the terms and conditions then click on Register

Enter the OTP that you receive on your mobile number

Enter your Email ID and verify it by entering the OTP that you receive on your Email ID
Note: Only 1 account can be created with the same Mobile number/Email ID


Step 2: Verify your Aadhar and PAN details

Once your Mobile Number and Email ID is verified, enter your PAN card number and date of birth as per your PAN card.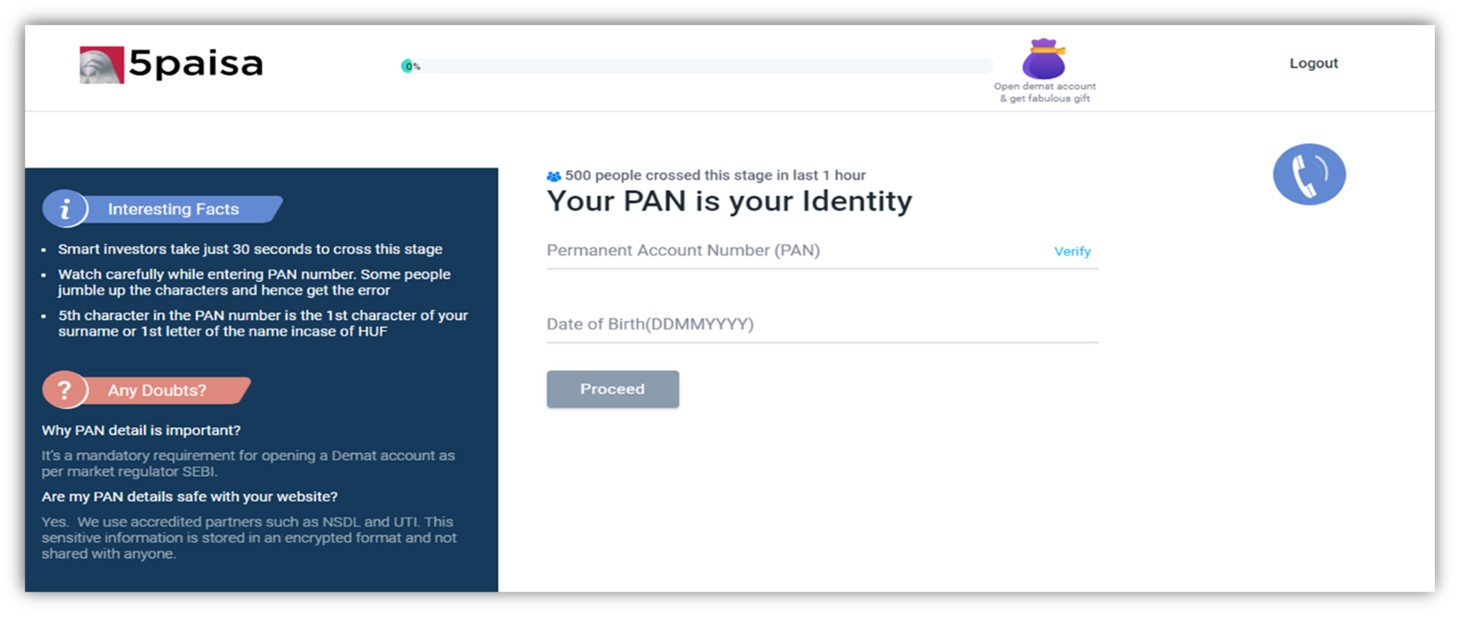 Step 3: Documentation

Post verification of PAN card you will get an option to Login Digi Locker for Aadhar and PAN verification

If your Aadhar is linked with mobile number, then click on "Continue" and enter your Aadhar card details

If you do not have Digi Locker, click on "Skip". Then you need to upload your PAN card and Aadhar card documents manually



Step 4: Bank and Personal Details
Once you upload the documents, enter your Bank details which includes your Bank account number, IFSC code, Account holder name for verification.
Note: Only personal bank account should be added. If you have a Joint Bank account, you need to be the first/primary holder of that account

Now you need to enter your Personal Details which include your Name, Father's name, Income range etc.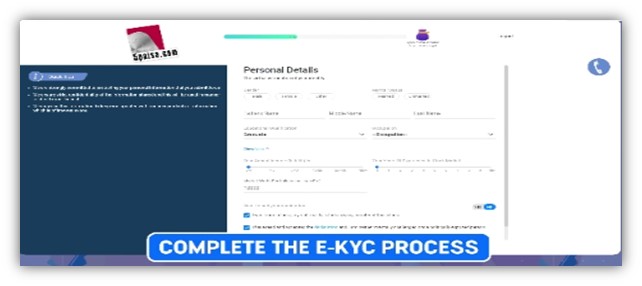 Step 5: Biometric Verification
Once you enter your personal details, you need to click a live selfie and upload it. After uploading the selfie, you need to do an E-sign in the space given on your screen.
While taking a Selfie avoid wearing a cap, mask or sun glasses to avoid any rejection.

When you upload the signature it will be your default signature in 5paisa. For any Online/Offline procedure you have to use the same signature to avoid rejections



Step 6: E-Sign
You need to digitally sign your form by filling up the e-sign form with your Aadhar card details using NDSL website approved by the Government. Once you enter the OTP that you receive your account opening process will be completed and the account will be activated in 24-48 working hours.

Note:
If your Aadhar card is not linked to your Mobile Number you need to complete the account opening process through offline mode by contacting support@5paisa.com